BREAK
Directed by LA Warman
featuring Lily Bartle and Maddie Kodat
February 24 and 25, 2018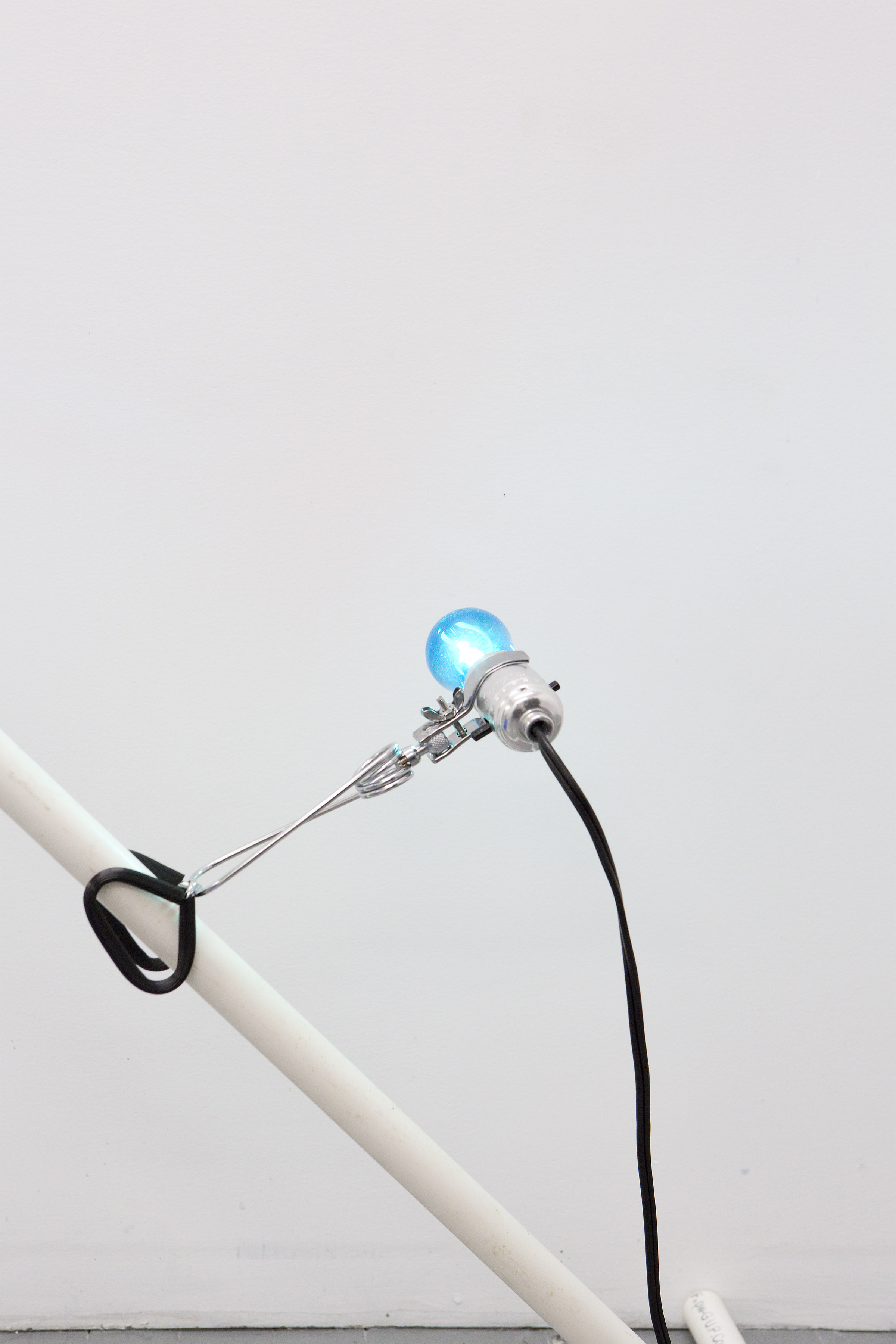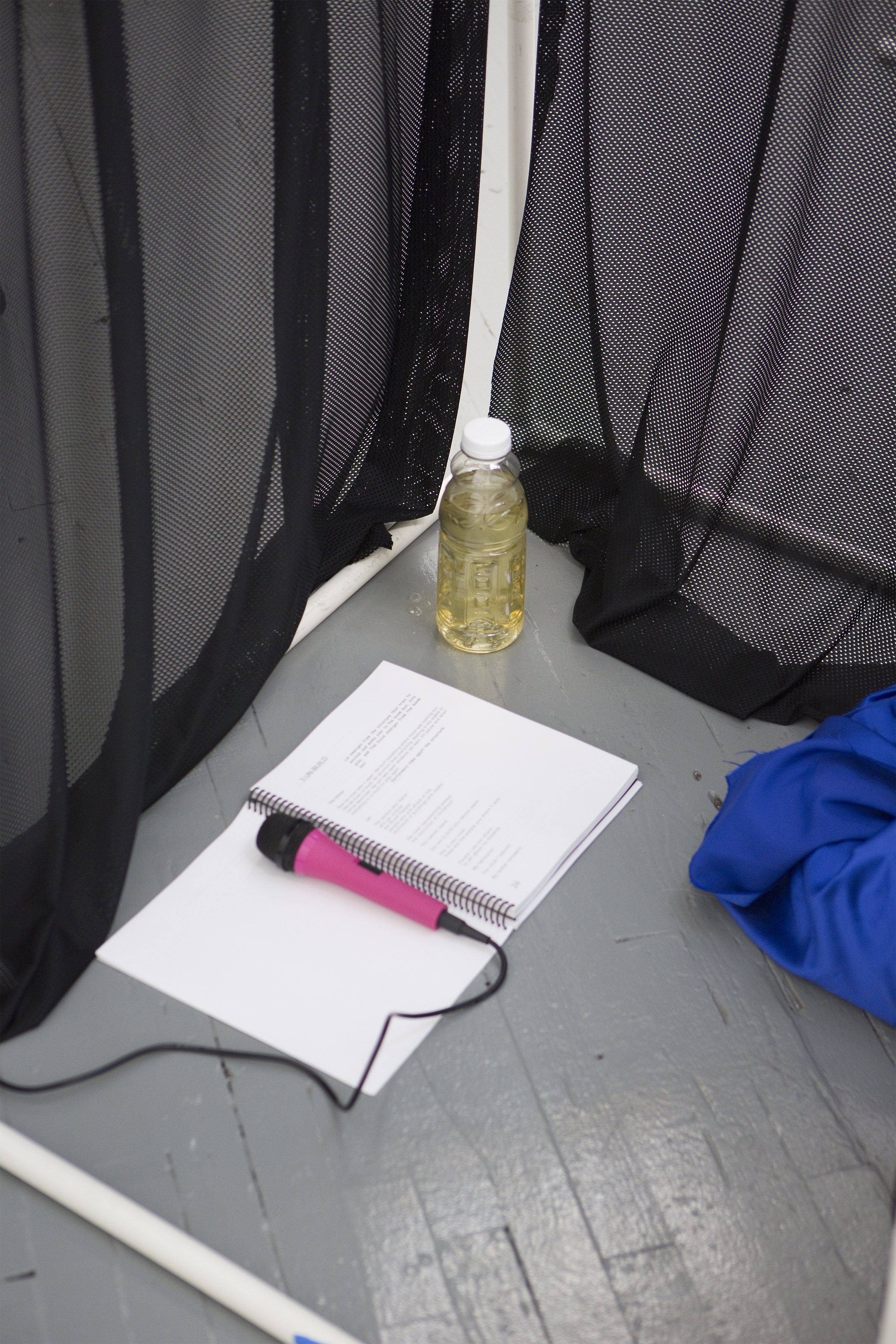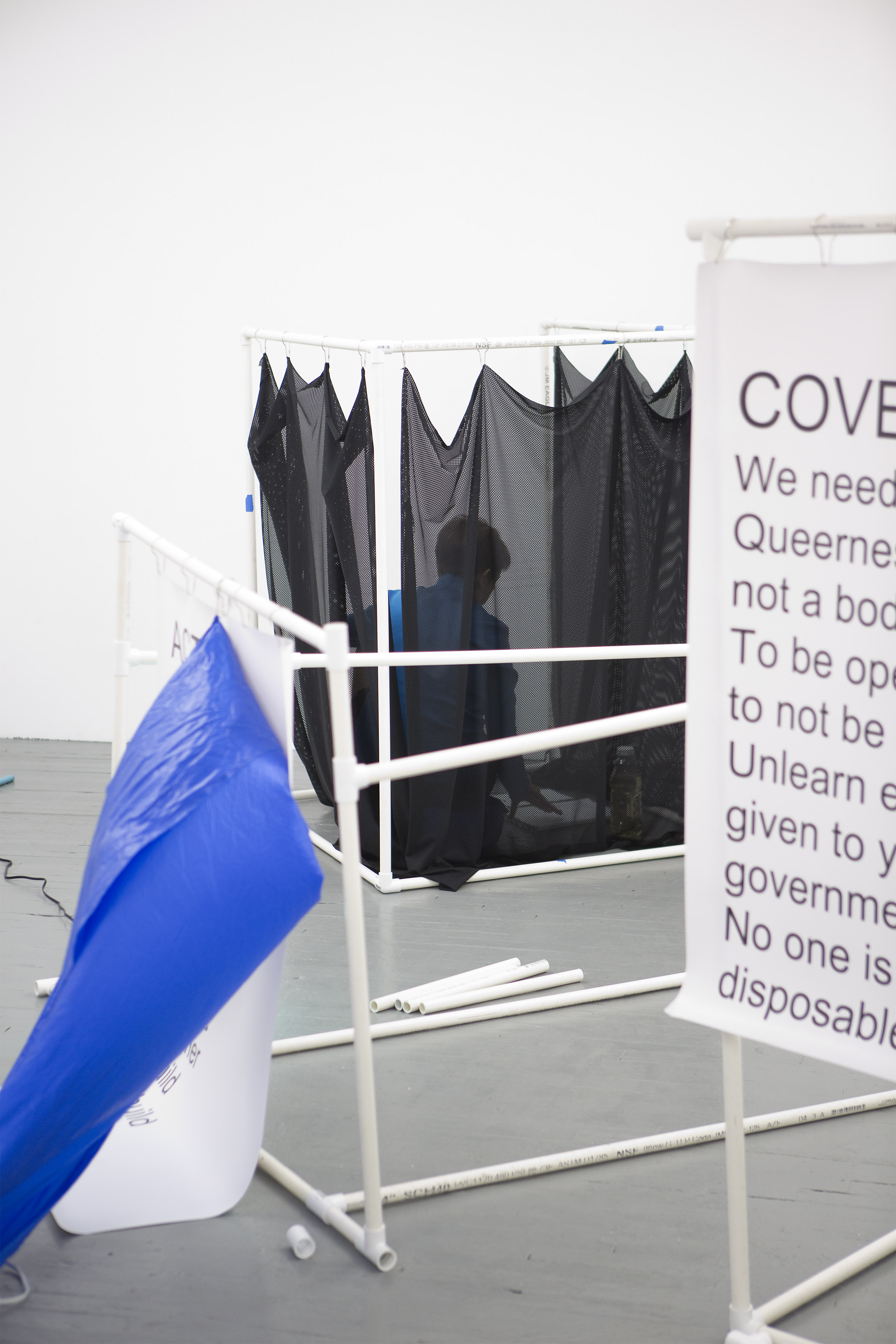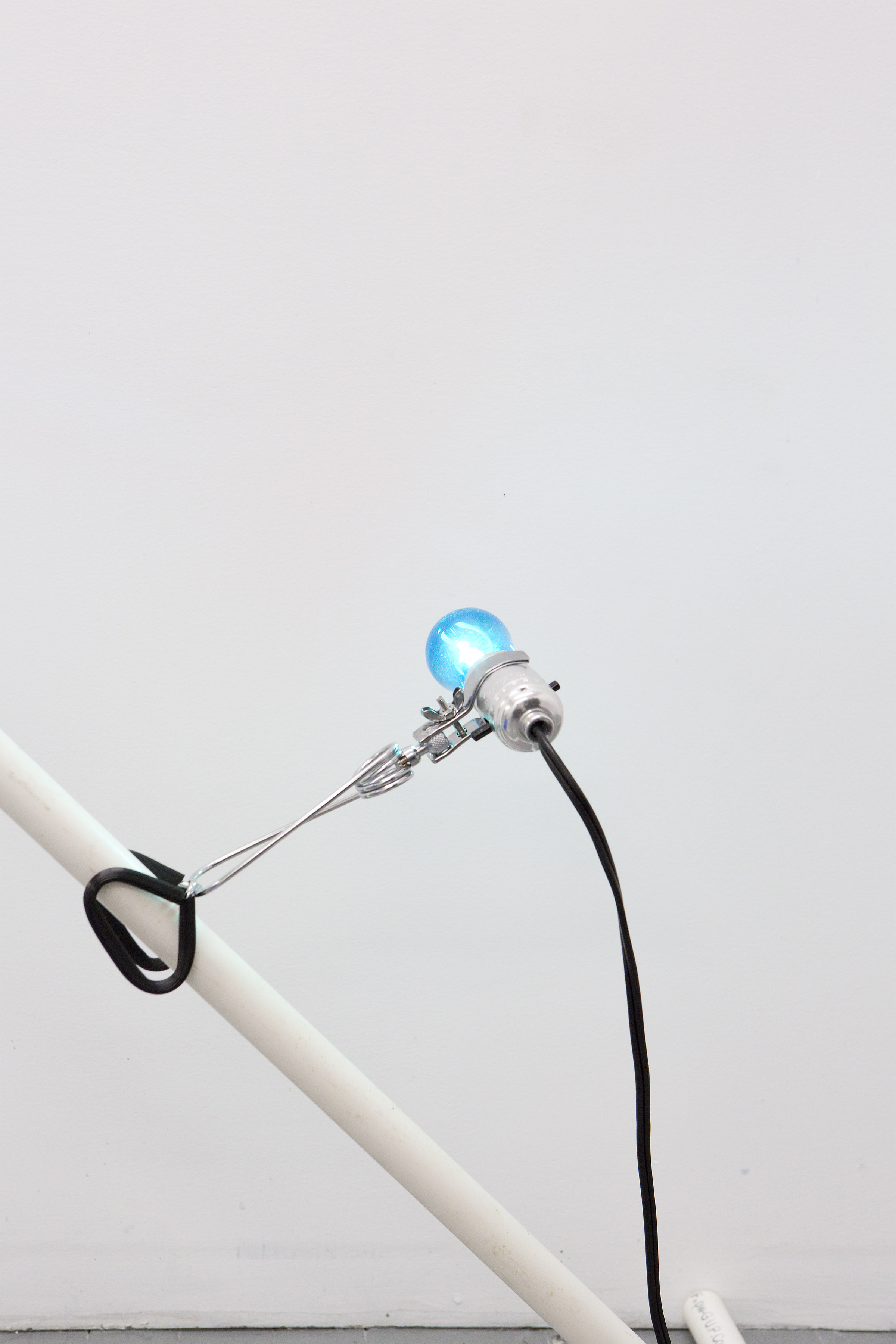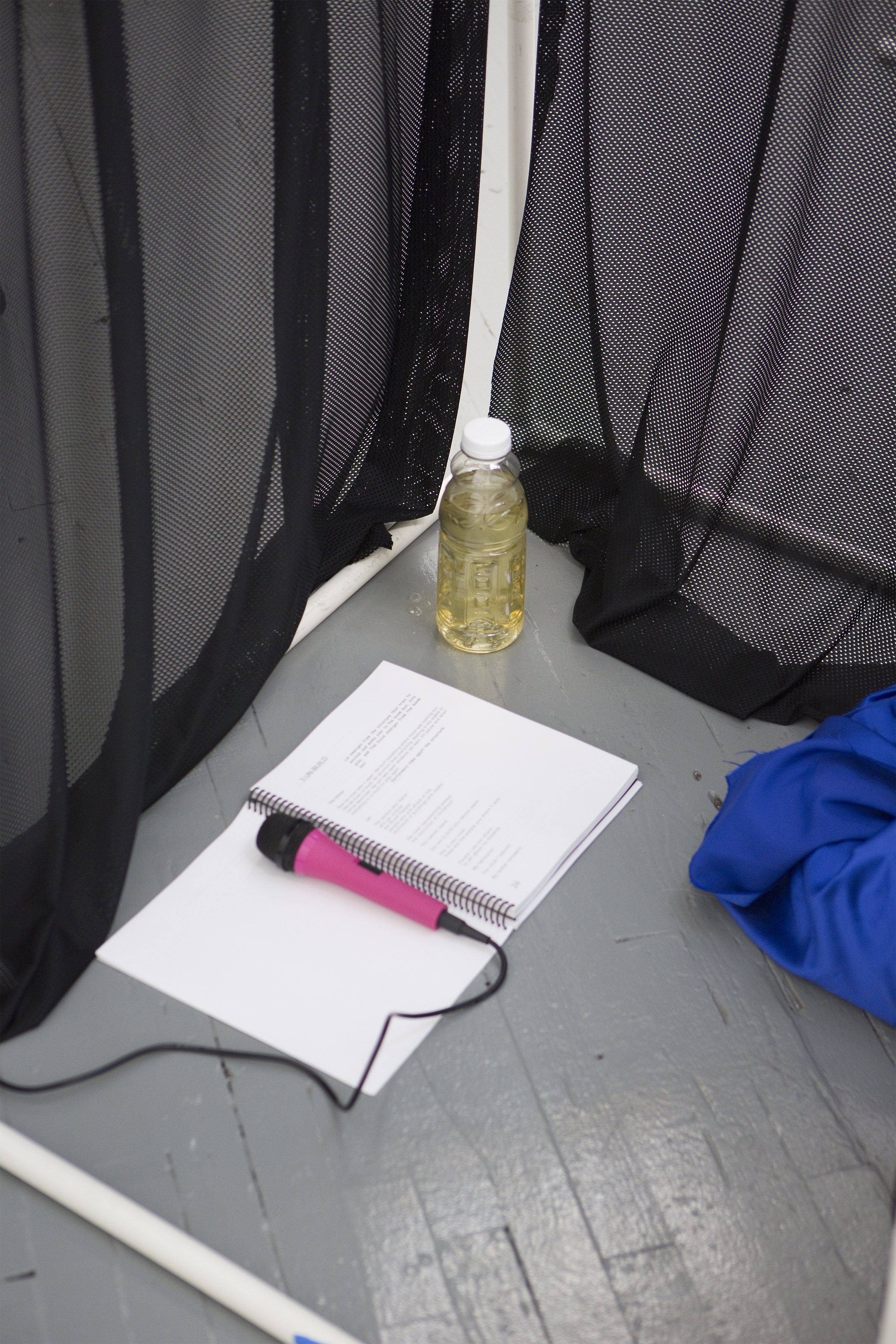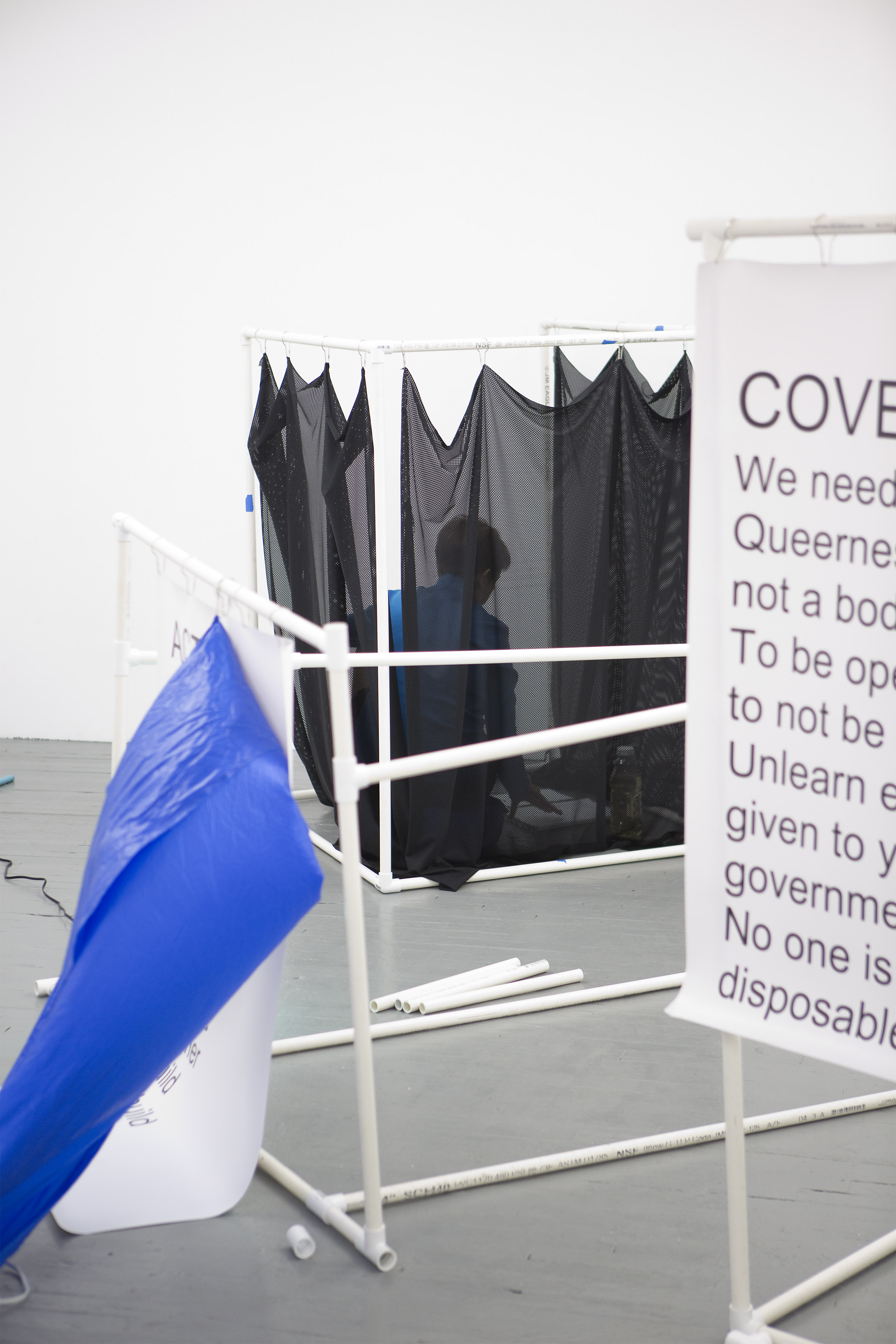 Rules
● Only others can provide for you
● But you can call for help
● We can provide for the audience
● Any rule can be disobeyed and this is not disobedience, this is openness
Covenant
● We need everyone
● Queerness is not a body
● To be open is to not be in control
● Unlearn everything given to you by governments
● No one is disposable
Three performers in a room build and break apart, a fragile beginning. A future created and destroyed. Lengths of PVC pipe pop apart and join other lengths, becoming structure. The performers make the space fit their body. Three performers, three different people, join each other, become a group. Cut the PVC. Break the plastic. We use lesbian tools. We put it back together in a way the object wouldn't want. The audience becomes a group, we all work together. The only instruction: interact with the space in a way that feels honest. In a world that is dominated by hetero patriarchal white supremacy, how can we understand our position and re-create a space that dissolves hierarchies? Through group pleasure we can begin to augment the dictates of the controlled individual.
We put lotion on each other and become moist. We support each other, we do not differentiate the each from the other. The queer erotic moments are exactly what the government doesn't want. We make an image to remember a word. There are modes: explore the space with nothing in it, build something from where there is nothing, exist in it, dismantle, re-build, exist in it, and un-build. If the 1% rule over us and it takes 3% to topple a government, how many hands are we? We experience it together. There is touch, there is sound, there is poetry, there is water. For these 12 hours we exist together on purpose. We join, we build, we have a very nice time.
LA Warman is a poet and performer currently based in New York City. She is the founder of GLASS PRESS, a publisher of art and poetry on flash drives. Warman has had work in shows at MOCA Cleveland, ICA Philadelphia, Time-Based Art Festival, General Public Collective, Flying Object, and Open Engagement. Her full length book of poetry, How Much Does it Cost? was published by C.A.R. Warman is the author of Whore Foods, a serialized erotic novella. Her chapbooks How to Become a Lesbian and THE CAVE THE CHURCH THE BEDROOM THE MALL were published by Inpatient Press and After Hours Ltd. She has presented performative poetics research at Brown University and Hamilton College. She currently curates a performance series at American Medium Gallery and teaches Erotica classes online and in Brooklyn.
Lily Bartle is a poet and novelist based in New York City. She is also the assistant editor of Log and treasurer of Passive Income Stream Solutions (P.I.S.S.).
Maddie Kodat is an interdisciplinary artist and writer based in Chicago, IL. They have performed at Comfort Station, Ballroom Projects, Fat City, and Lou Conte Dance Studio, and published work with Glass Press of the Future and Meekling Press. Maddie received a BFA in Studio Art and a BA in Visual/Critical Studies from the School of the Art Institute of Chicago in 2017, prior to which they danced as a company member with Ballet Chicago for six years.